Find the way
Accessibility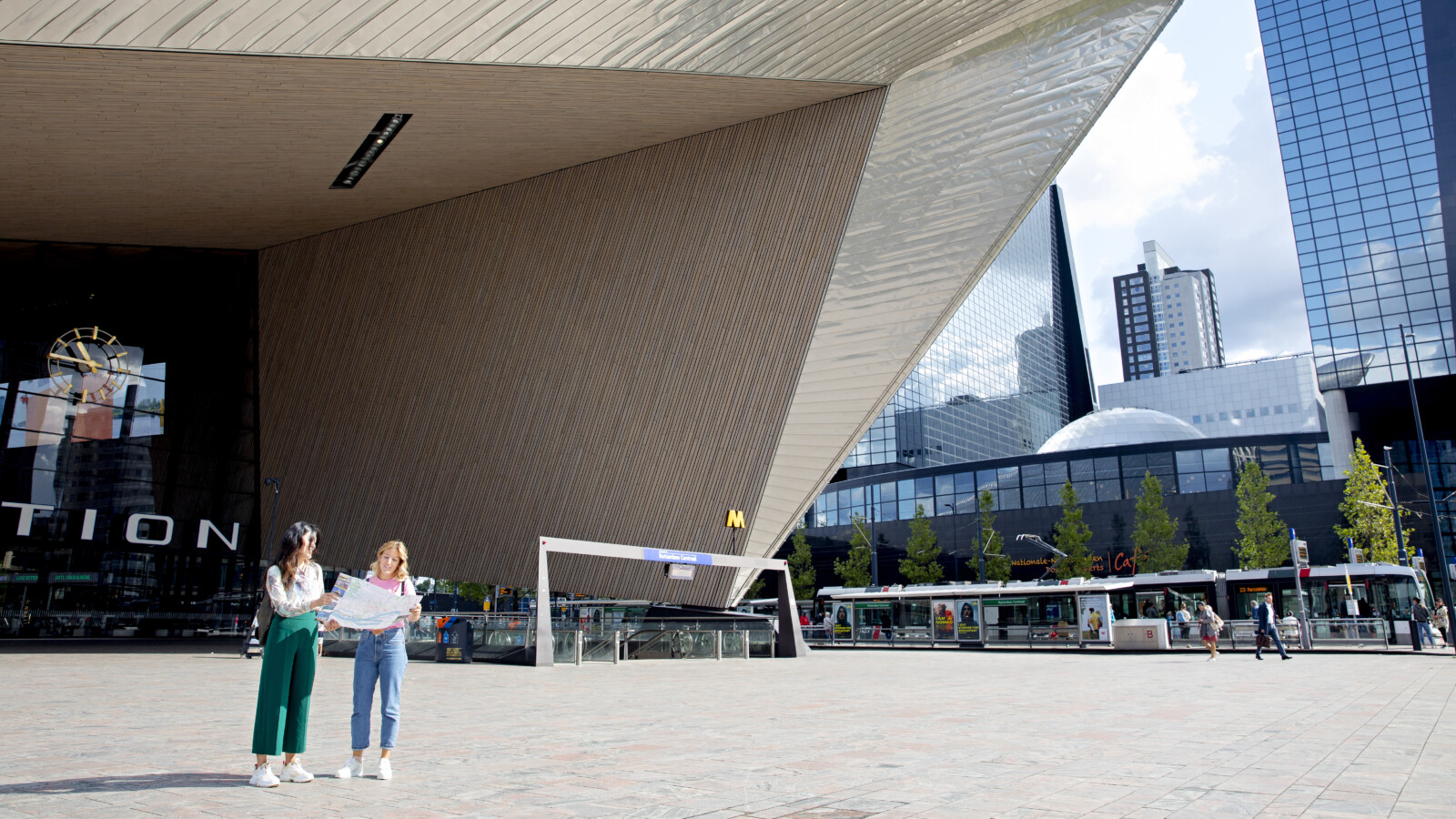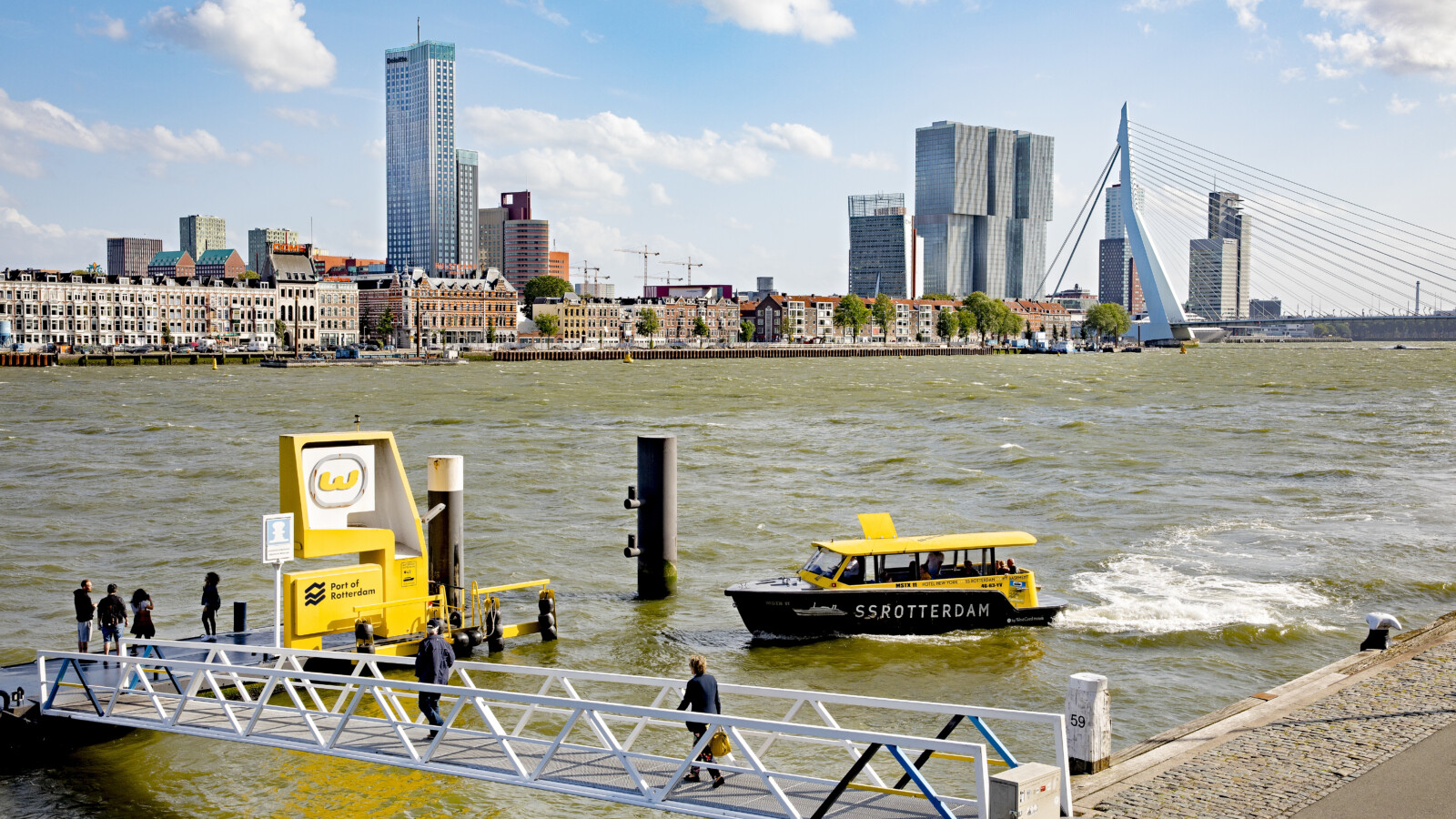 Rotterdam must be discovered. Fortunately, the city is well connected, both to and within Rotterdam.
Rotterdam moet ontdekt worden. Gelukkig staat de stad goed in verbinding, zowel naar als binnen Rotterdam.
Do you want to explore the city by bike? Are you coming by car and do you want to know the best place to park? Or do you travel through Rotterdam like the real locals do: by metro? Below we show how you can best travel around the city.

Metro
One of the easiest ways to discover Rotterdam is by metro. Thanks to an extensive (underground) network, the metro takes you to all corners of the city and stops right in front of the biggest attractions in the centre.
The metro in Rotterdam falls into the hands of the RET, so you will also recognise the metros by this. There are five lines that cross through the city and also reach surrounding areas. The lines are identified by a letter (A-E) and a colour.
The map below shows a clear overview of the lines and stations. You can see that Beurs is the largest connector in the centre and all lines come together here. This is also the station where you can easily travel further to explore the centre.
Public transport cards can be purchased or topped up at the vending or charging machines at the metro stations, Rotterdam The Hague Airport or one of the RET Service Points. For more information about buying a ticket and a route planner, you can consult the RET website.
Wil je de stad verkennen op de fiets? Kom je met de auto en wil je weten waar je die het beste kan parkeren? Of reis je door Rotterdam zoals de echte local dat doet: met de metro? Wij laten hieronder zien hoe je dit het beste kan doen.

Metro
Een van de makkelijkste manieren om Rotterdam te ontdekken is met de metro. Dankzij een uitgebreid (ondergronds)netwerk brengt de metro je naar alle uithoeken van de stad en stopt het recht voor de deur van de grootste trekpleisters in het centrum.
De metro in Rotterdam valt in de handen van de RET, hier zal je dus ook de metro's aan herkennen. Er zijn vijf lijnen die door de stad kruisen en ook omliggende gebieden bereiken. De lijnen zijn te herkennen aan een letter (A-E) en een kleur.
Op onderstaande plattegrond is een duidelijk overzicht te zien van de lijnen en de stations. Zo zie je dat Beurs de grootste verbinder is in het centrum en hier alle lijnen samen komen. Dit is dan ook het station waar je gemakkelijk verder kunt reizen om het centrum te verkennen.
OV-kaarten kunnen worden aangeschaft of opgeladen bij de verkoop- of oplaadautomaten op de metrostations, Rotterdam The Hague Airport of een van de RET Servicepunten. Voor meer informatie over het kopen van een kaartje en een routeplanner kun je de website van de RET raadplegen.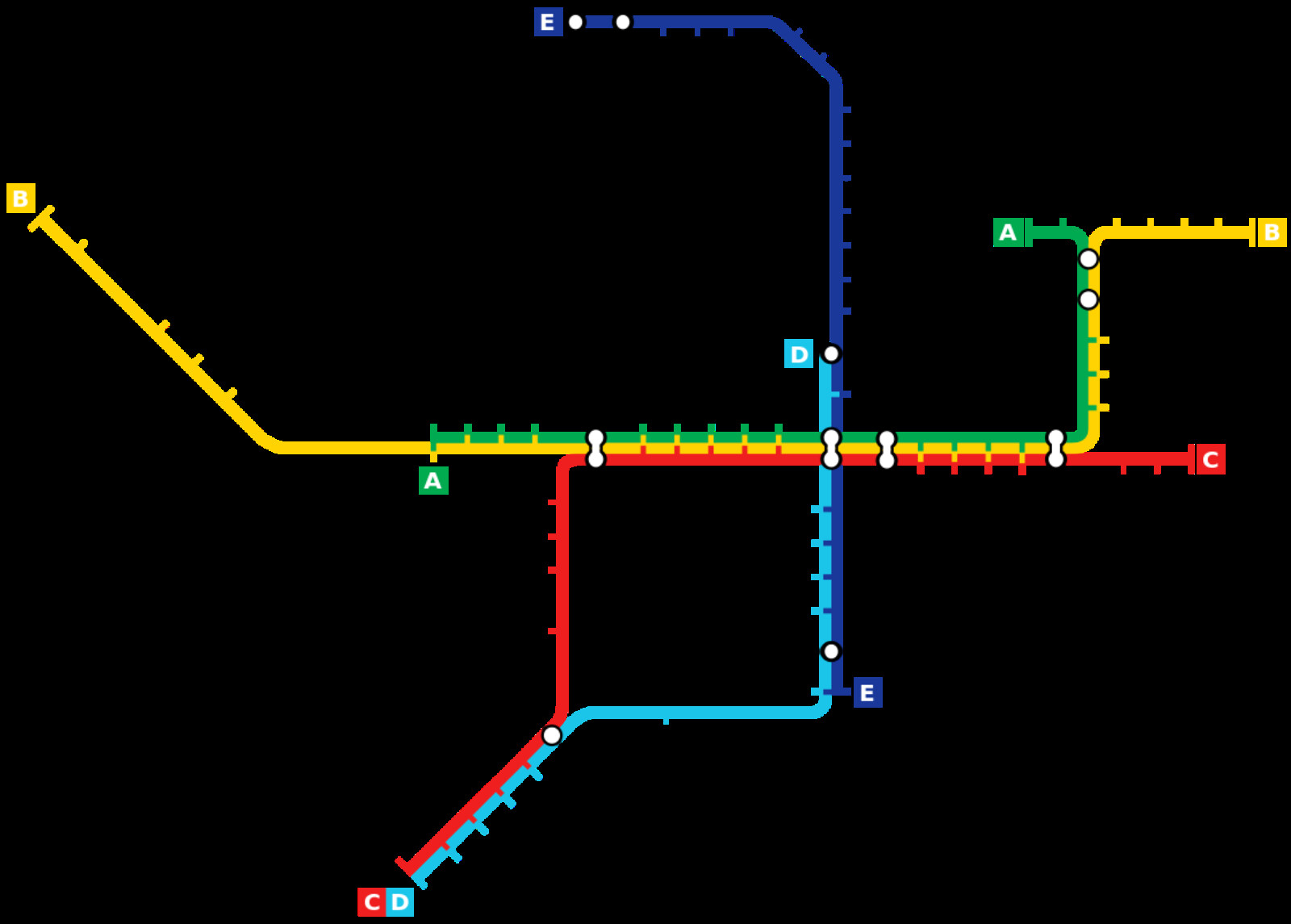 Train
Are you coming to discover Rotterdam from another city? Then a journey by train is a good way to enter the city. With Rotterdam Central as a station, the centre of the city is at your feet.
The intercity trains run throughout the country, making it easy to reach Rotterdam. There is also the high-speed train, with which you can reach the smaller places in the country and around Rotterdam. Are you coming from Schiphol? Then take the Intercity Direct. This makes no stops and is very fast. Keep in mind the surcharge.
Finally, the Thalys and the Eurostar stop at Rotterdam Central Station. These trains are connected to France, Belgium and England.
To buy a ticket and a route planner you can go to the website of the NS.
Tram
Rotterdam Central station is a real hub when it comes to trams. When you are here, you will notice this immediately. Trams run to and from the station on all sides and people run to the stop. Thanks to the good connection with the trains and metro, you can be everywhere in no time.
Tram lines 4, 7, 8, 20, 21, 23, 24 and 25 pass various places in the centre and are therefore ideal for exploring the city.
For information about buying a ticket and a route planner, you can consult the RET website. It is also possible to buy a 2-hour tram ticket from the conductor. RET Day tickets can only be purchased at the vending or charging machines at the metro stations or at one of the RET service points.
Bus
In the centre of Rotterdam, the buses are arranged by the RET. With an extensive network, the buses take you throughout the city. To plan your bus ride, we recommend using the RET route planner.
Car and taxi
Parking
Are you coming to Rotterdam by car? Then of course you want to be able to park your car somewhere. There are several options for this, with different associated rates.
An efficient way to reach the centre is with the help of a P+R site. These sites are located outside the centre and close to public transport. If you park your car here and continue your journey with public transport to the heart of the city, parking is free.
There are also several parking garages in the city. You can distinguish between city garages (of the municipality) and private garages. Good to know: you can pay in garages with cash, pin or credit card.
The private garages are managed by Q-Park, APCOA PARKING, Interparking, ParkingYou and Parkking. These parking garages can be found in both the city centre as well as in other areas. For example, you will find a Q-Park garage in the Bijenkorf, so you can immediately enter the department store and start shopping. Do you want to explore the Witte de Withstraat? Then around the corner of the street is the APCOA Westblaak garage. Compare the locations and rates and find the garage that best suits your day in Rotterdam.
Finally, there is the possibility to park on the street. You simply pay at a payment terminal or using an app. Examples of such apps are Parkmobile, Yellowbrick, EasyPark, Park-line, SMSParking and ANWB parking. The rates for on-street parking differ per zone area. In general, the closer to the centre, the more expensive. You can find the rates on the payment terminals or in the apps.
Disabled parking
There are several parking facilities for disabled people in the city. Here you can park with a disabled card for a fee. Look for a complete overview of the possibilities on the municipality website.
Taxi
There are plenty of taxi centers in Rotterdam. Ideal if you want to get from A to B quickly without too much hassle. Below we mention some of the many taxi centers that Rotterdam has.
Rotterdamse Taxi Centrale (RTC)
Stadstaxi Rotterdam
010 818 28 23
Rotterdam Taxi Service
010 237 20 18
Taxi RTR
010 226 54 76
You can book a taxi via phone, but at most places also via the website or with an app. Another option is booking a ride in Rotterdam via the Uber app or the Sixt app.
Cycling
The Netherlands is a real cycling country, which means that there are enough bicycle paths to cruise around safely. It is therefore a great idea to rent a bicycle during your visit to Rotterdam Centre and discover the city.
You can rent a bicycle in several places. Ho(s)tels often offer bicycles, but companies such as Donkey Republic and VAIMOO also offer shared bicycles that you can use via an app. In addition, Rotterdam has the OV-fiets. To rent these, you need an OV chip card and the free OV-fiets subscription. The public transport bicycles can be found at Rotterdam Central.
Bicycle sheds
Are you visiting Rotterdam Centre by bike and do you want to park your bike safely? There are several bicycle sheds in the centre where you can put them under supervision, as can be seen on the map below. In addition to the fact that the parking facilities are free, there are often also charging points for electric bicycles, repair columns and bicycle pumps.
Read more about the bicycle sheds in Rotterdam Centre here.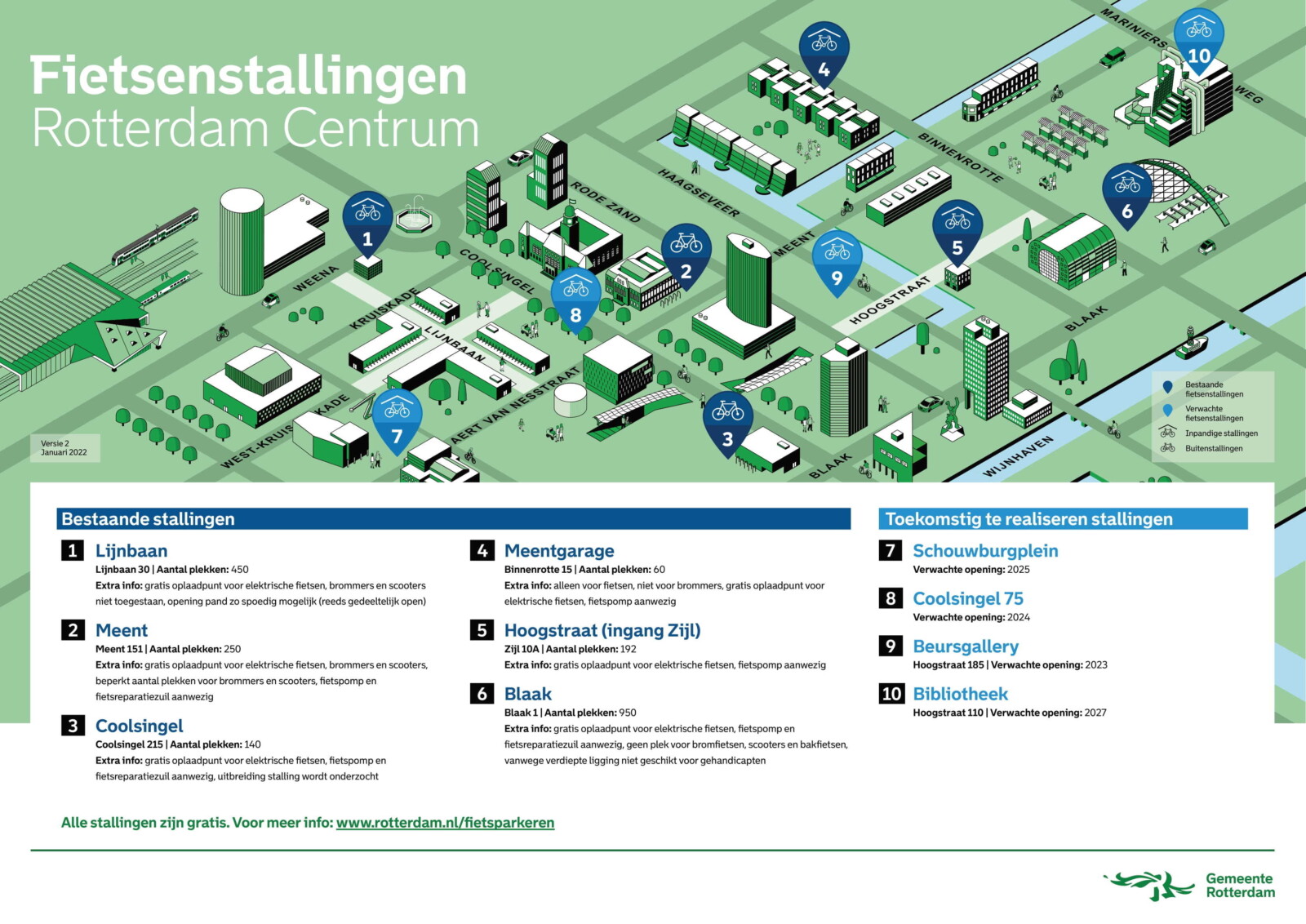 Airport
Rotterdam The Hague Airport is located outside the city centre. An airport that is connected to many European cities. Fortunately, the centre is easy to reach from the airport. It is connected to bus 33, but the metro or taxi is also a good option.
For more information you can visit the website of Rotterdam The Hague Airport here.
Waterbus- and taxi
A ride on the water should not be missed in a city like Rotterdam. In addition to booking a fun boat trip, you can also approach this in a practical way. For example, sail with the water taxi, which takes you to more than 50 locations in Rotterdam and Schiedam. You can simply book the water taxi via their website or by telephone on 010 403 03 03.
In addition, Rotterdam has a water bus, which is connected to the Drechtsteden. This bus is therefore ideal if you want to visit the city from places such as Dordrecht, Sliedrecht, Alblasserdam or Krimpen aan den IJssel. The Waterbus stops at several places in Rotterdam, including the stop at the Erasmus Bridge. For travel information such as a route planner and rates, you can take a look at the website of the Waterbus.