New!
Vondelgym and Brasserie Jules in Rotterdam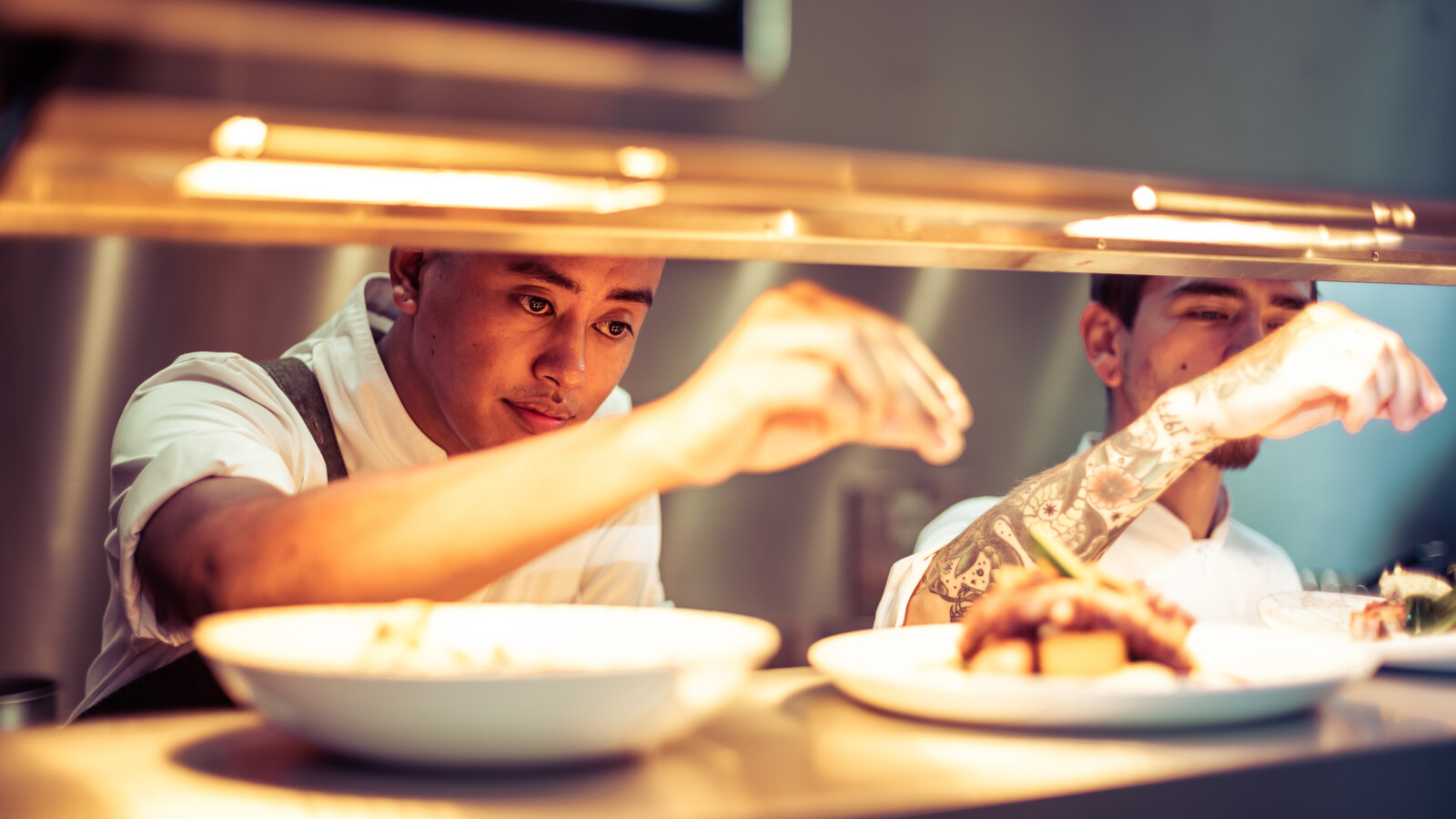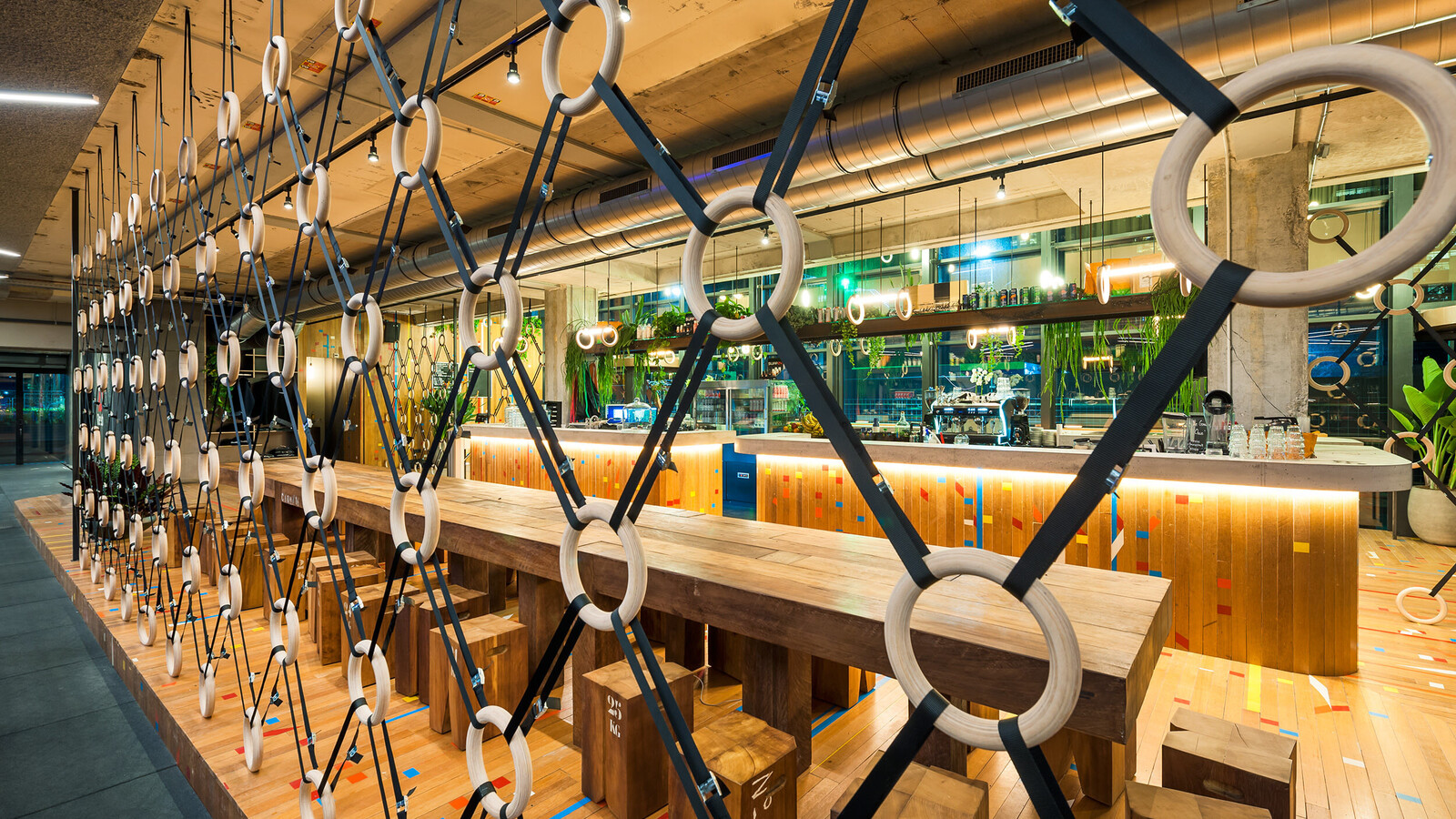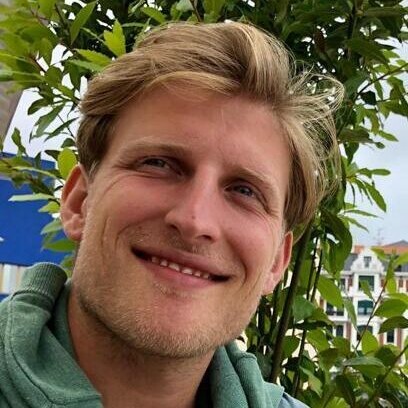 Written by Rob Ittmann
October 13, 2021
Frontrunner
WTC Rotterdam is steadily nearing completion of its comprehensive masterplan to supply tenants and visitors with even more high-end amenities – including an urban hotel, a brasserie, employee restaurant and city gym.
While work continues at full steam to round off the finishing touches in the months ahead, Brasserie Jules and Vondelgym are already opening their doors. We spoke with Eveline Steenbergen, WTC Rotterdam's managing director, about these two brand-new arrivals.
How did the partnership with Brasserie Jules come about?
"That's a nice story, actually. When drafting the masterplan to upgrade and revitalization the whole in- & exterior, we decided it needed new places to eat, too. It started with De Koffiesalon opening in the Main Hall, but we wanted to have a spot for people to enjoy good food and drinks and a sit-down bar. Then one balmy summer evening two years ago at Brasserie Pierre in Pannenkoekstraat, I was with Jan-Willem Kos, my business partner at Bouwinvest, who own the building, going through all the plans for WTC Rotterdam. When they arrived with our order, we both looked at each other and realized Brasserie Pierre was exactly the concept we wanted for WTC. Two weeks after that, Brasserie Pierre co-owner and entrepreneur Leon Kleinekoort came around, and now we just opened Pierre's little brother, Jules."
Vondelgym is also opening soon. How did they find WTC Rotterdam?
"Through one of our property agents, who helped us look carefully at what sort of concept would be right for us. This branch is in the historic section of WTC Rotterdam and has its own entrance from the well-known street Meent. It's rough and rugged and Vondelgym fits well with that. We hit it off straight away, and Vondelgym liked the idea of opening a location in Rotterdam. Winston Bergwijn is the owner of this location and wants to bring together a really diverse community here, so it will be a very inclusive space for everyone to work out, from WTC tenants to hotel guests to locals who want to become gym members."
Both are two pretty up te date places. Were you specifically out to give WTC a trendier image?
"Absolutely! Now that the building is being so beautifully revitalized, and with the historic part of it being a bit edgy and hip and offbeat, we were seeking something very specific. The location demands it, even. Meent is very up-and-coming and a real hotspot. Everything we're doing is targeted to the location and the aura of this building."
Terwijl er in de komende maanden op volle kracht wordt gewerkt om de puntjes op de i te zetten, openen Brasserie Jules en Vondelgym alvast hun deuren. Over deze twee kersverse aanwinsten spraken we met Eveline Steenbergen, algemeen directeur van WTC Rotterdam.
Hoe is de samenwerking met Brasserie Jules tot stand gekomen?
"Dat is eigenlijk een mooi verhaal. Bij het opstellen van het masterplan om het hele interieur en exterieur te upgraden en revitaliseren, besloten we dat het ook nieuwe eetplekken nodig had. Het begon met de opening van De Koffiesalon in de Grote Zaal, maar we wilden een plek hebben waar mensen kunnen genieten van lekker eten en drinken en een zitbar. Toen, op een zwoele zomeravond, twee jaar geleden in Brasserie Pierre in de Pannenkoekstraat, was ik met Jan-Willem Kos, mijn zakenpartner bij Bouwinvest, eigenaar van het gebouw, alle plannen voor WTC Rotterdam aan het doornemen. Toen ze aankwamen met onze bestelling, keken we elkaar aan en realiseerden we ons dat Brasserie Pierre precies het concept was dat we wilden voor WTC. Twee weken later kwam Brasserie Pierre mede-eigenaar en ondernemer Leon Kleinekoort langs en nu hebben we net Pierre's kleine broertje Jules geopend."
Ook Vondelgym gaat binnenkort open. Hoe hebben ze WTC Rotterdam gevonden?
"Via een van onze makelaars, die ons hielp goed te kijken wat voor soort concept bij ons zou passen. Dit filiaal bevindt zich in het historische gedeelte van WTC Rotterdam en heeft een eigen ingang vanaf de bekende straat Meent. Het is ruig en stoer en Vondelgym past daar goed bij. Het klikte meteen en Vondelgym vond het een leuk idee om een vestiging in Rotterdam te openen. Winston Bergwijn is de eigenaar van deze locatie en wil hier een heel diverse gemeenschap samenbrengen, dus het wordt een zeer inclusieve ruimte voor iedereen om te sporten, van WTC-huurders tot hotelgasten tot locals die lid willen worden van een sportschool."
Beiden zijn twee behoorlijk up-to-date plaatsen. Was je er specifiek op uit om WTC een hipper imago te geven?
"Absoluut! Nu het gebouw zo mooi wordt gerevitaliseerd en het historische deel een beetje edgy en hip en ongebruikelijk is, waren we op zoek naar iets heel specifieks. De locatie vraagt er zelfs om. De Meent is erg in opkomst en een echte hotspot. Alles wat we doen is gericht op de locatie en de uitstraling van dit gebouw."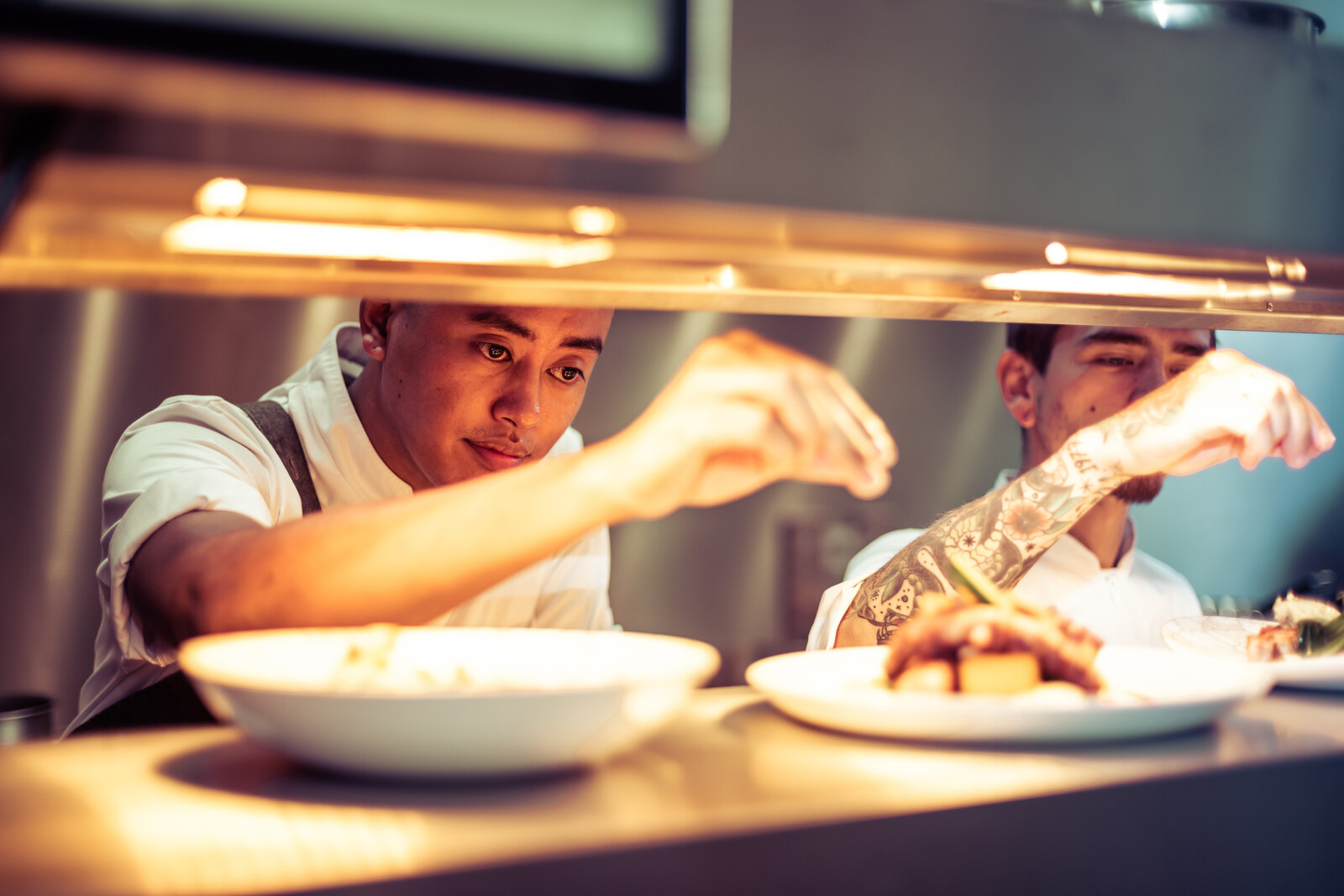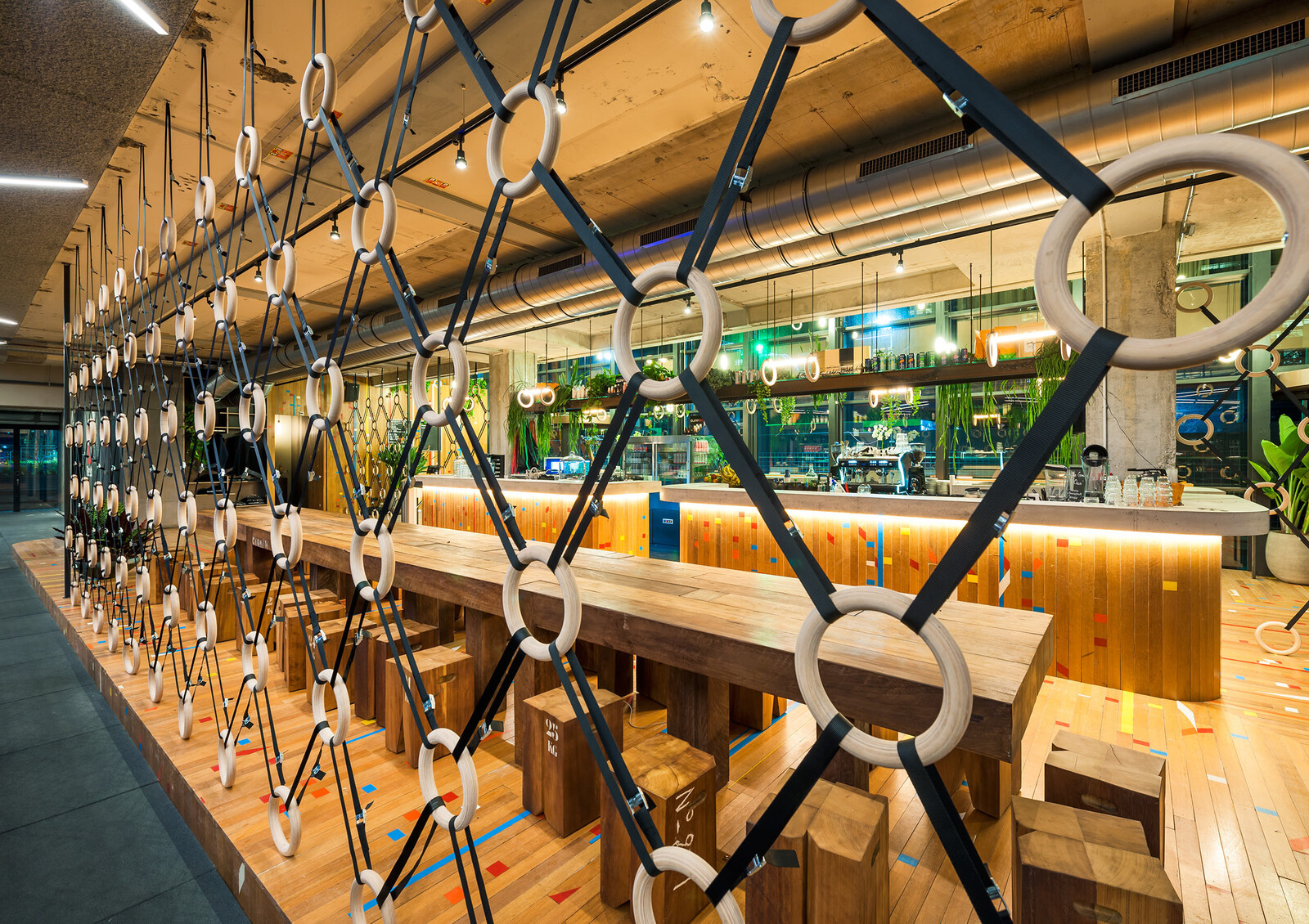 Brasserie Jules
The menu at Brasserie Jules features French classics alongside new additions like pasta vongole. Think steak tartare, croque monsieur or madame and salade niçoise, but with a twist. Currently the restaurant seats 95 inside, and it will have another 75 tables outside on the raised terrace in front of WTC Rotterdam.
Vondelgym
Rotterdam native rapper Winston Bergwijn, aka Winne, will be calling the shots in WTC's Vondelgym, the chain launched by Dutch TV personality Arie Boomsma. The gym is expected to open its doors on Meent in October. There will be hot yoga in the basement. The upper level will feature a boxing ring and all the standard fitness equipment, plus registration for a range of classes.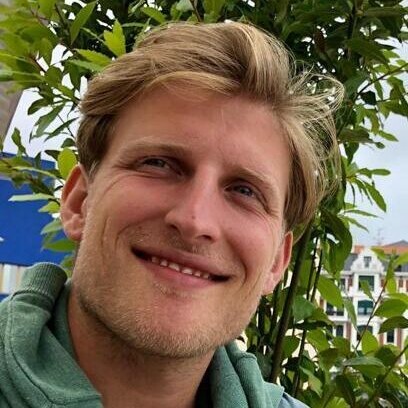 Written by Rob Ittmann
October 13, 2021
Frontrunner