In the clouds
New romantic Euromast suites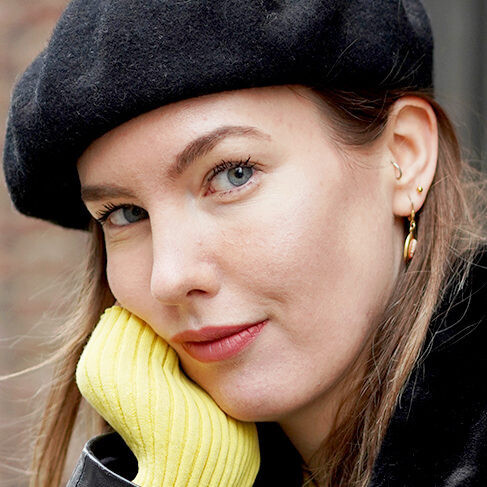 Written by Lisanne van Beurden
August 22, 2023
Frontrunner
Waking up at a height of 100 meters? That's possible in the Euromast in Rotterdam. They recently completely renovated the suites!
Once you arrive in the suite, you don't have to go anywhere. Everything has been thought of and in the freestanding bath in the bedroom you can relax while sipping a glass of bubbles. Does this sound like something to you? Read more below!
Hotel room with a priceless view
In 2005, the two romantic hotel suites on the Euromast were unveiled for the first time. These rooms were designed by Jan des Bouvrie at the time, but were now due for an update. These rooms have recently undergone a contemporary makeover, dressed in hip, modern natural tones to enhance their sophisticated look.

Freestanding bath
One of the highlights of the rooms has to be the freestanding bath, with a priceless view of Rotterdam. Both suites have everything you might need. Upon arrival, a bottle of champagne will be waiting for you, including snacks. You don't have to think about anything anymore, it's all about enjoying yourself.
Private observation platform
As soon as the clock strikes 22:00, visitors to the Euromast will leave, and then you can enjoy an amazing view of the city on the observation platform. The lights of the city and harbour make the view extra magical. You'll sleep like a baby in the king-size bed.

The next morning you choose whether you want to have breakfast in the suite, or prefer the brasserie.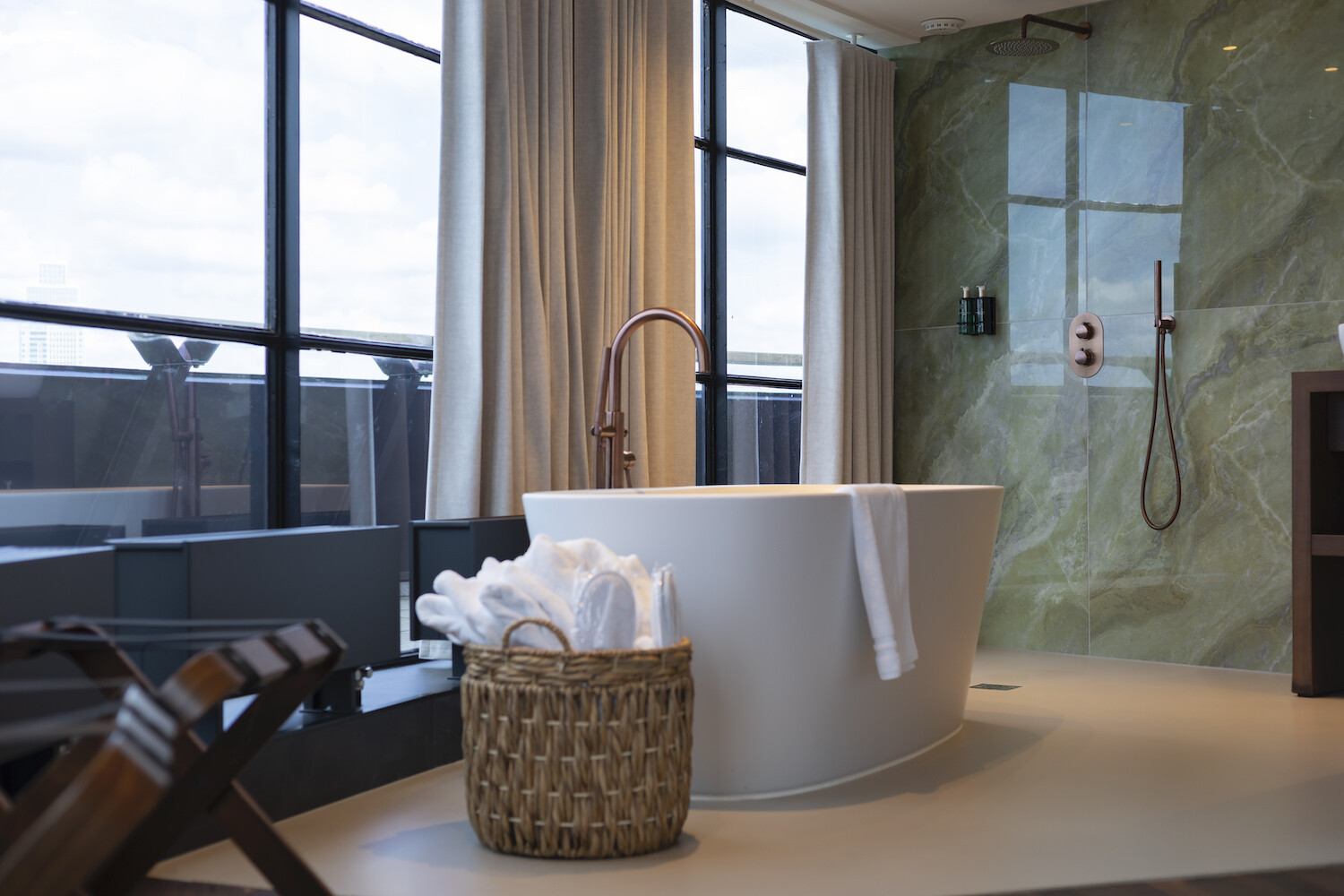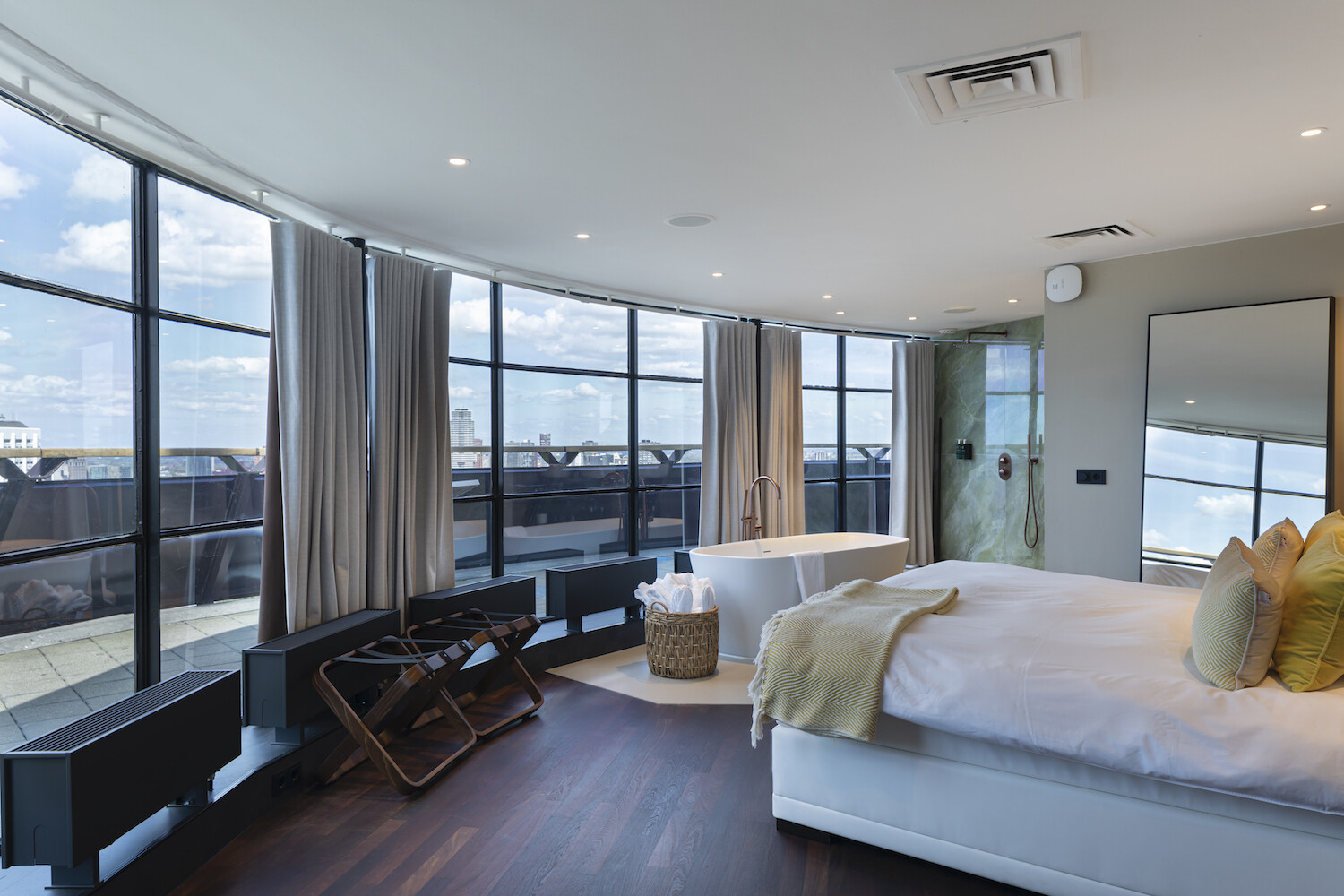 Practical information
An overnight stay in one of the suites, you can choose from Suite Heaven or Suite Stars, can be booked from € 395 for two persons (including breakfast and champagne).
Renovated meeting room
In addition to the suites, the meeting room has also been given a new look. An inspiring place with a great view for any type of (business) event. Room Dusk has an ultra modern and interactive multimedia system, which makes this room suitable for any type of meeting.

Looking for an intimate dinner spot? This fantastic modern space can be booked for private dining.

Are you planning to celebrate something extraordinary with a loved one soon? Then an overnight stay in the Euromast is a fantastic option!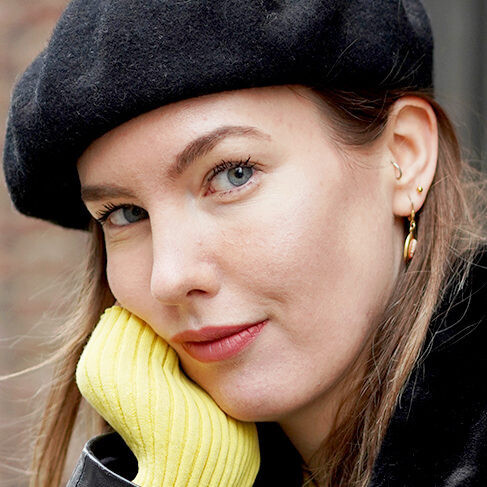 Written by Lisanne van Beurden
August 22, 2023
Frontrunner