3D artist Leon Keer
"In Rotterdam you can find originality in street art."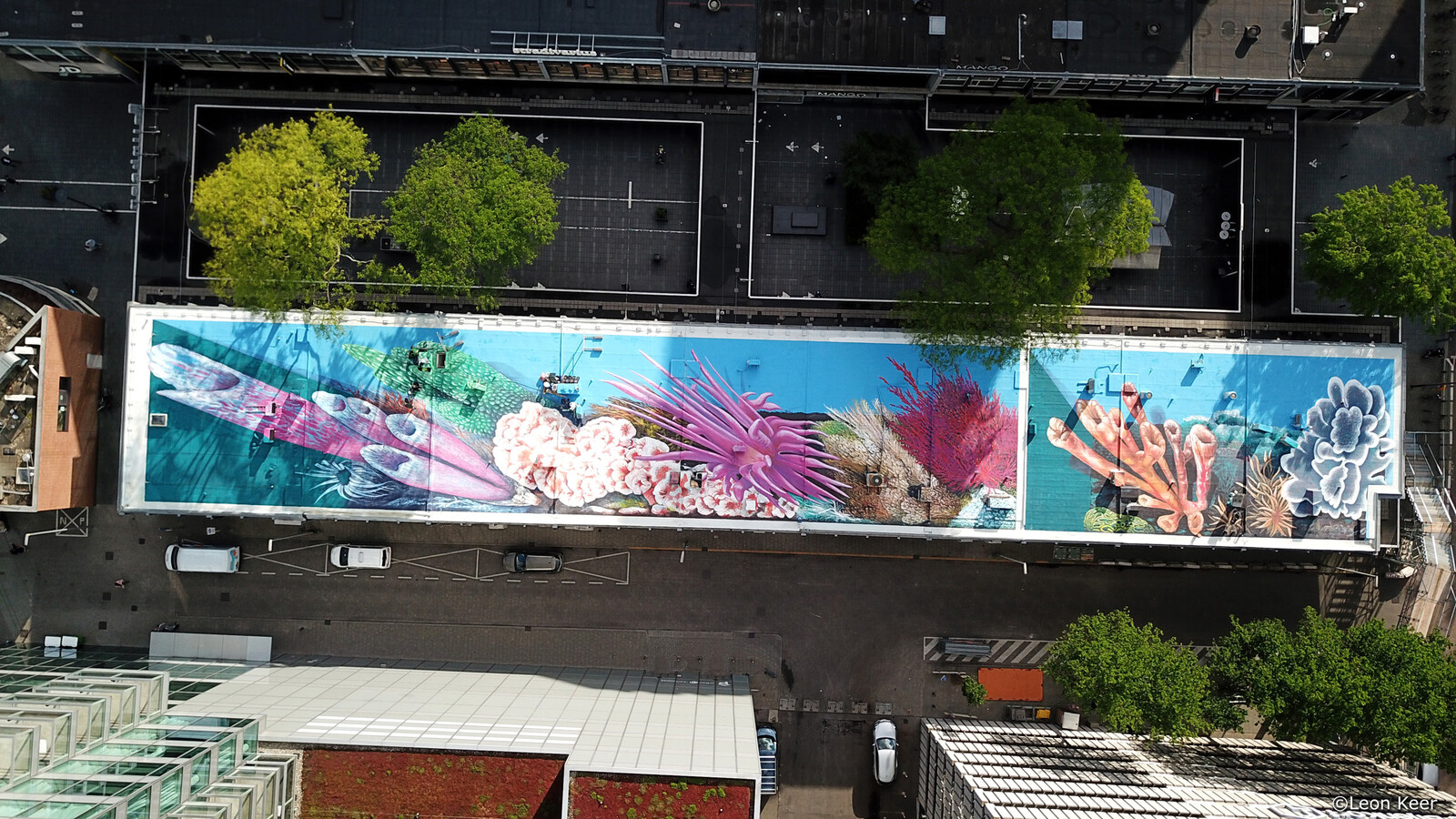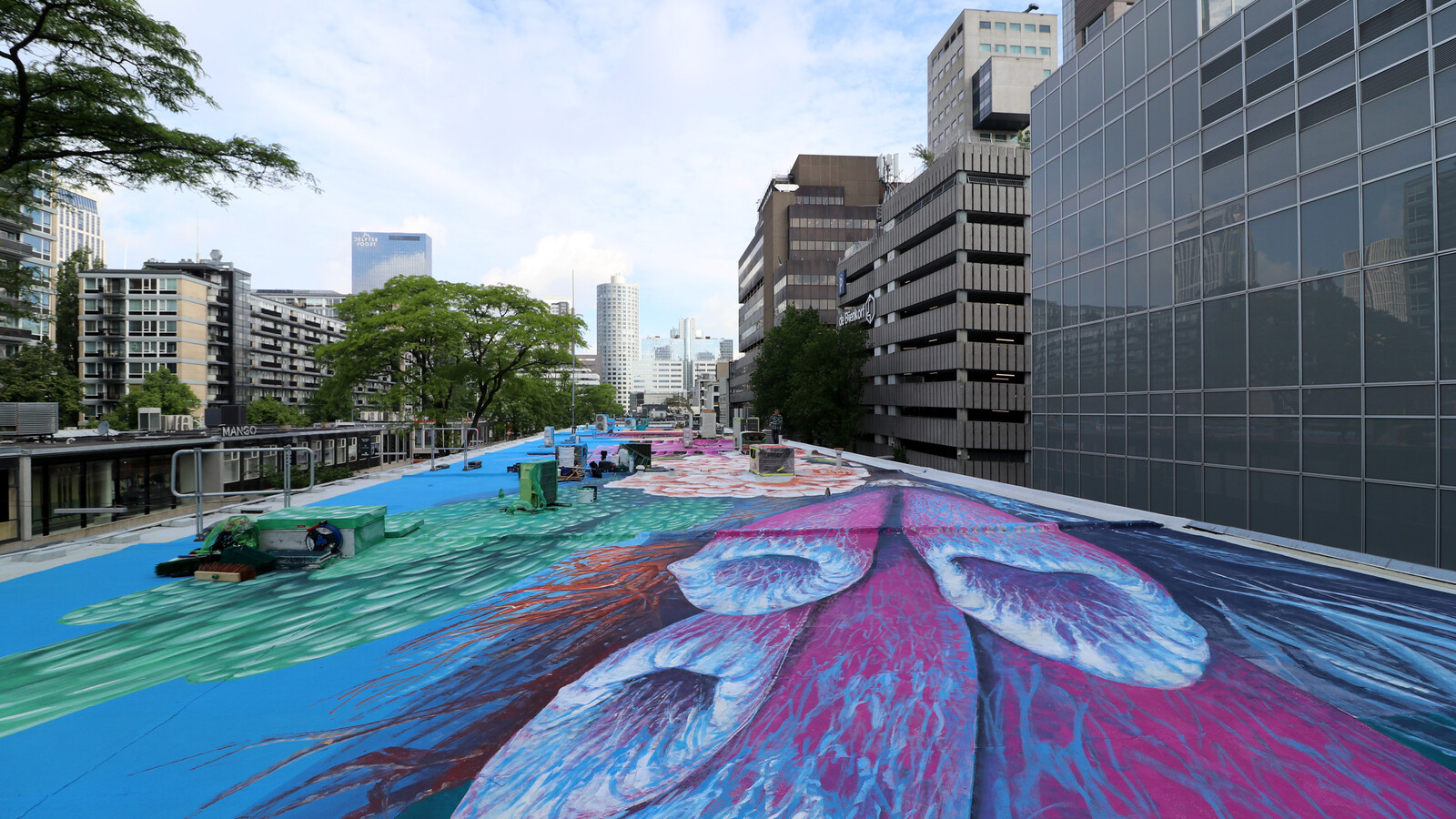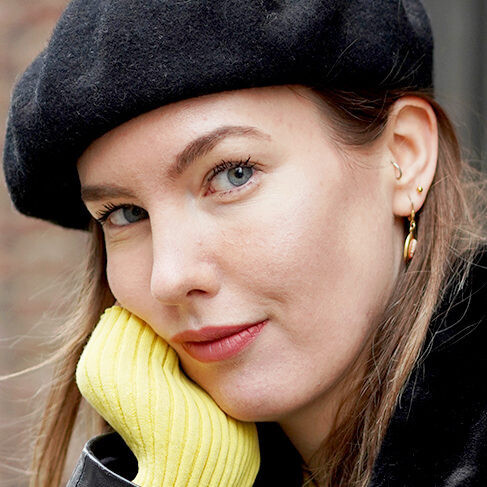 Written by Lisanne van Beurden
May 30, 2022
Frontrunner
Are you already familiar with artist Leon Keer? He makes impressive anamorphic street art, in which the artwork appears to be 3D from a certain angle. You can admire his latest artwork during the Rotterdam Rooftop Walk.

Up on the roof!
From 3 to 5 June it's time for the Rotterdamse Dakendagen again! During this pleasant weekend you can visit more than 35 roofs. This year there will be a large, one-off rooftop event. Rotterdamse Dakendagen organizes the 'Rotterdam Rooftop Walk', a route on the roofs of Rotterdam including a spectacular skybridge between WTC Rotterdam and the Bijenkorf.

You can make the spectacular crossing above the Coolsingel until 24 June.
In conversation with Leon Keer
One thing you should not miss during the Rotterdam Rooftop Walk is Leon Keer's latest work. It can be seen from a platform on the top deck of the Q-park Bijenkorf parking garage. His work of 1300 m2 shows the underwater world, with which he wants to pay attention to biodiversity. In eight days he completed the work together with Massina and Gregor Wosik.

Read our interview with Leon Keer below about his art, the technology behind it, Rotterdamse Dakendagen and street art in Rotterdam.

How did you come to do this work?
Leon started his own company in the decorative painting arts in 1997. For a long time he was the permanent decorative painter of large companies such as Coca Cola, Heineken and Maxxium. This way he has managed to leave his mark on many murals. Leon indicates: "I increasingly felt the urge for a development in which I could bring concepts and art to the fore. The step in this direction has brought me projects all over the world."

"Right now I am in a position to make choices where I can visualize my thoughts about social ills, injustice and environmental issues in my artworks. These artworks can be seen in public spaces as well as in museums in the form of murals and floor paintings and sculptures."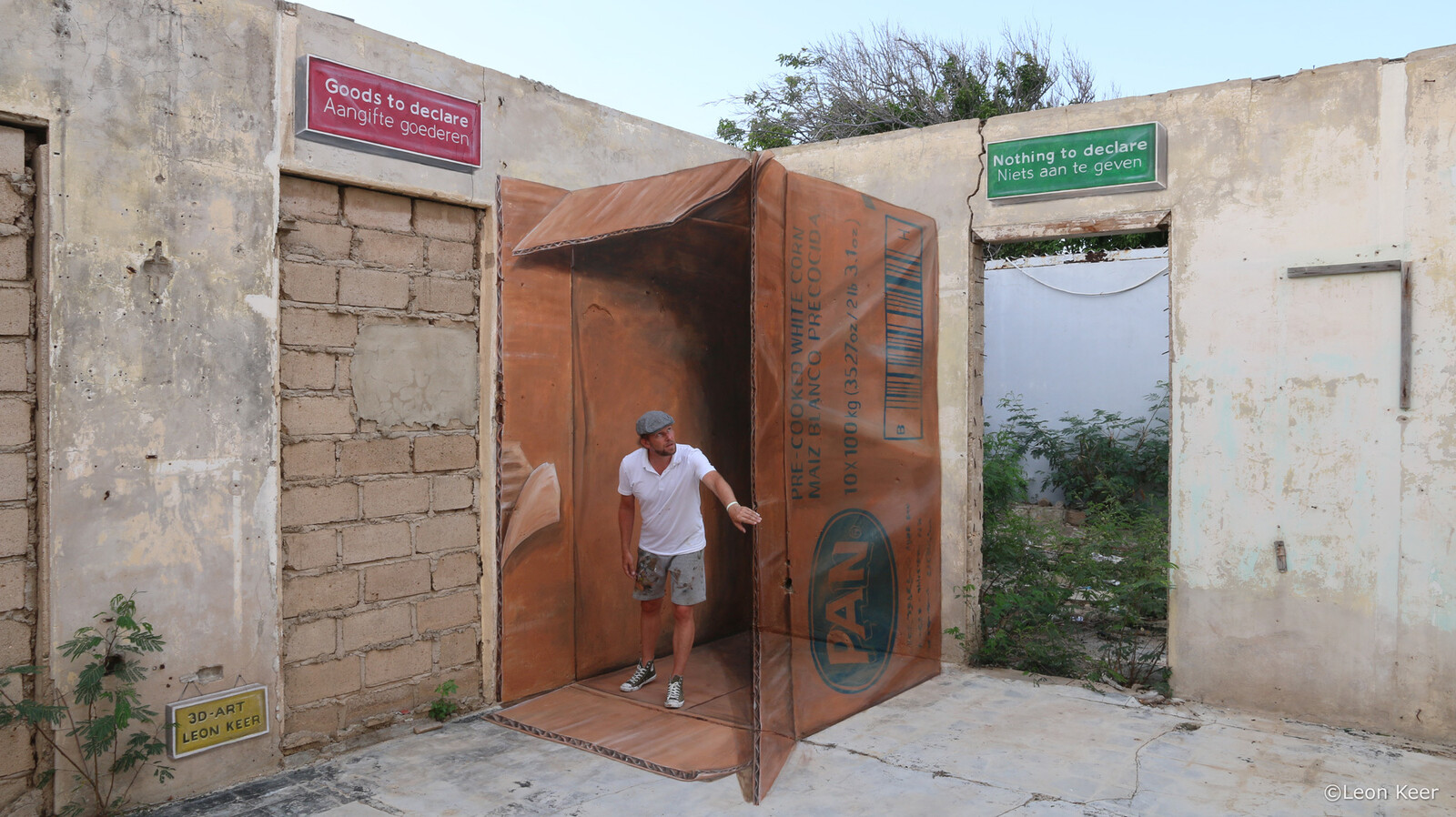 Can you tell us something about the street art you make and the technology behind it?
The technique Leon uses on floors and walls is called anamorphosis. The image is painted in 2D, but from a certain angle it appears to be a 3D work. Leon: "To achieve this, you have to distort the image more the further you get from the viewing point. In the beginning I was constantly walking back to the viewing point to see if my lines are right, but now I create by feeling and experience."

He continues: "Physically I am at work, but my mind is always on the point of view. The help for setting the right lines is only a rope. The biggest challenge with the floor paintings in particular is the influences of the weather. Fortunately I am used to working in the Netherlands and can often adapt well and estimate where the challenges lie."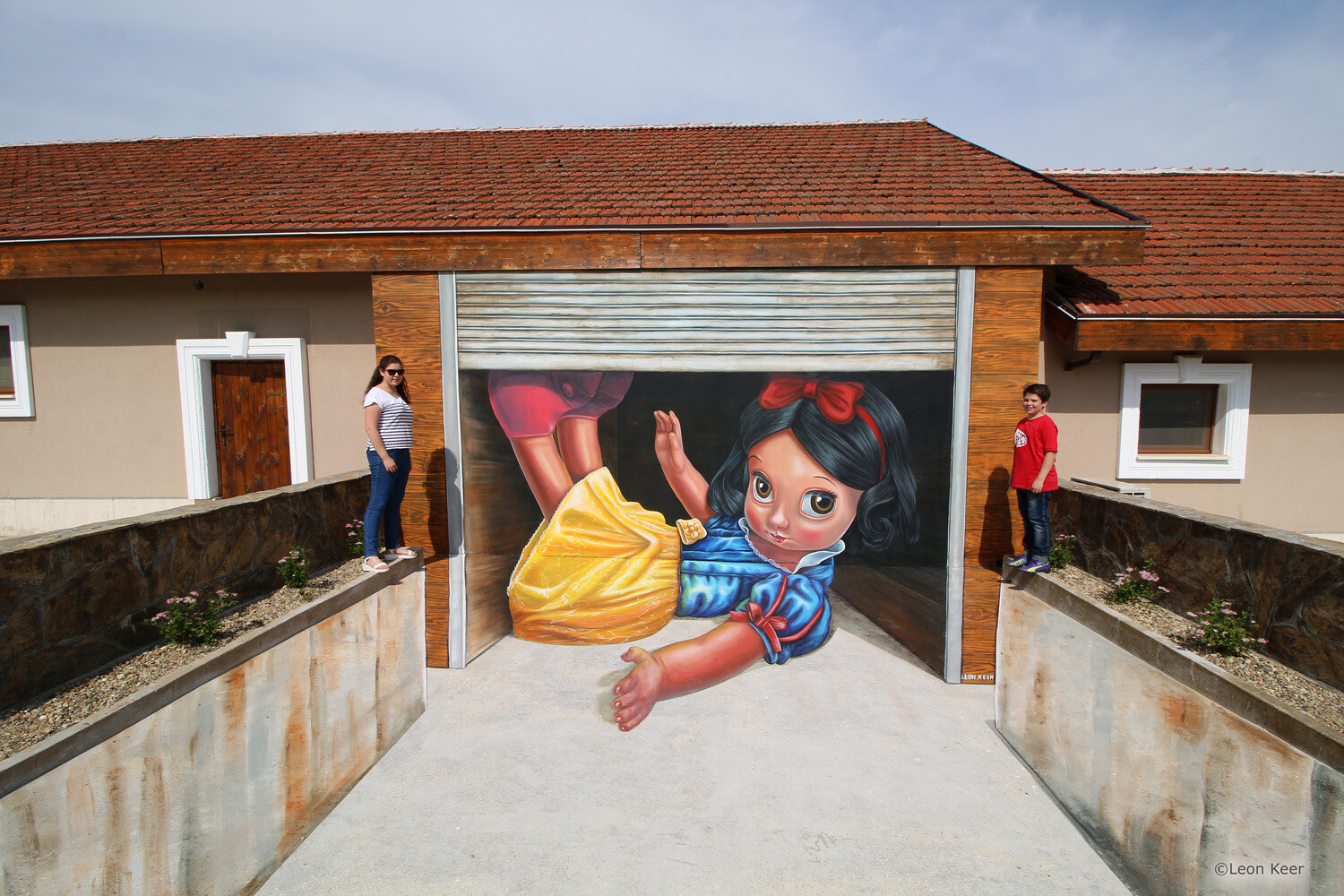 Are there certain themes that you like to use in your work?
"In the process of executing my work I actually mainly focus on the techniques used and pay attention to how the art will come across as a good 3D image from one point of view. I can imagine that spectators feel invited to be a part of the illusion by making nice selfie photos and videos."

Leon's work often starts with an idea. "Ideas where I don't shy away from subjects like oppression, social unrest and environmental problems. But always without bias or judgment, because I really feel that every opinion counts."

'Ideas where I don't shy away from subjects like oppression, social unrest and environmental problems.'
What is your favourite destination?
Leon travels a lot for his work and visits some of the most unique locations. Leon: "In terms of culture, I admire Japan. The diversity of views in the United States. Arts and the cuisine in Italy. But mostly my love for the destination comes from the people I meet there."
Which of your own artwork is your favourite?
"My favourite work was made in Malta. From a city wall 10 meters high you can see a floor painting of a number of enlarged gummy bears. They have come together to see what happened to their green friend."

Leon explains: "My works, like this one, come from inspiration that I get on location. With respect for the community and with the belief that a work of art on the street should carry out the atmosphere of the neighbourhood. During my travels I make lots of memories without prejudice. I am open to meet people with respect for all. While I get inspired by exploring, I make sketches on paper with pencil."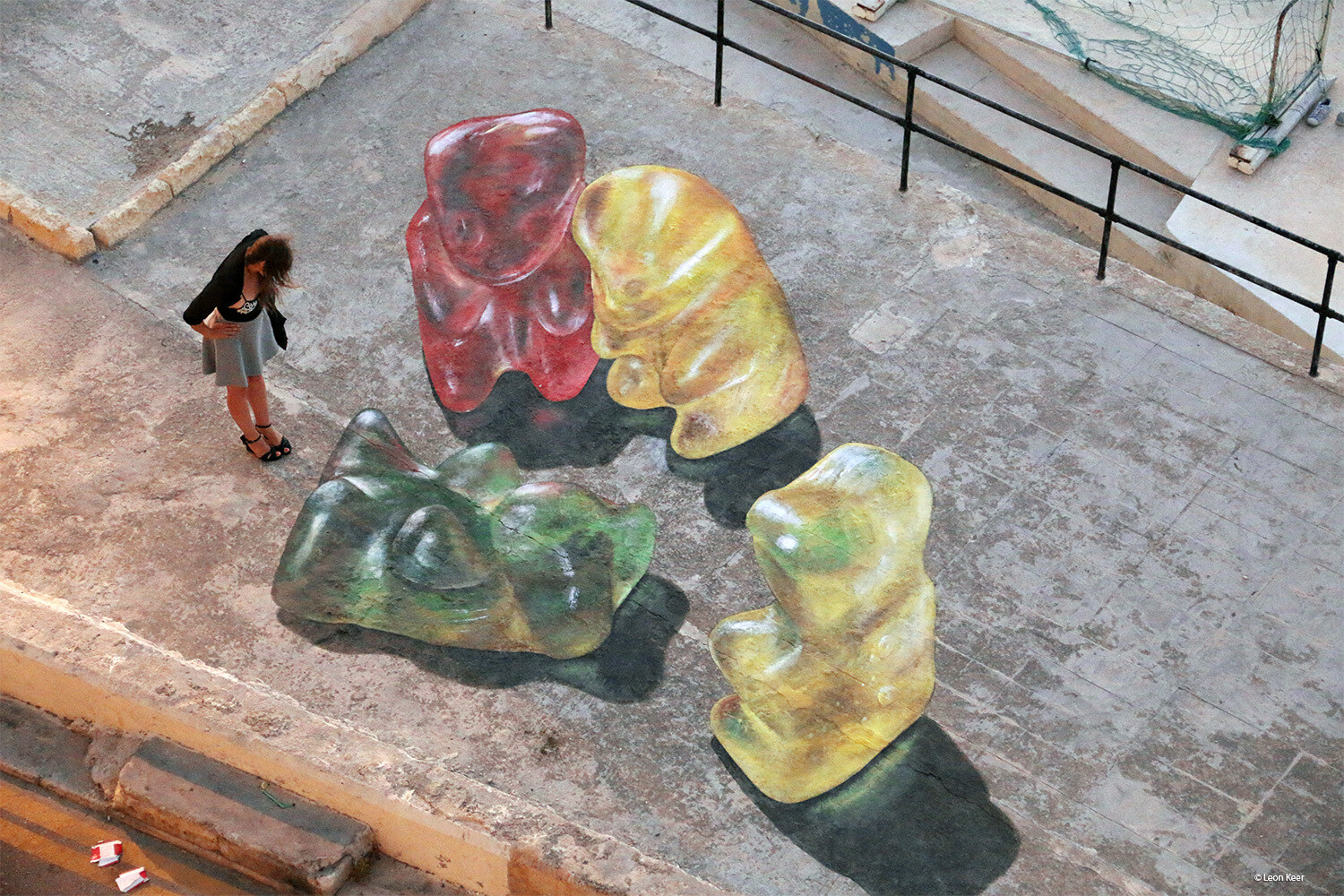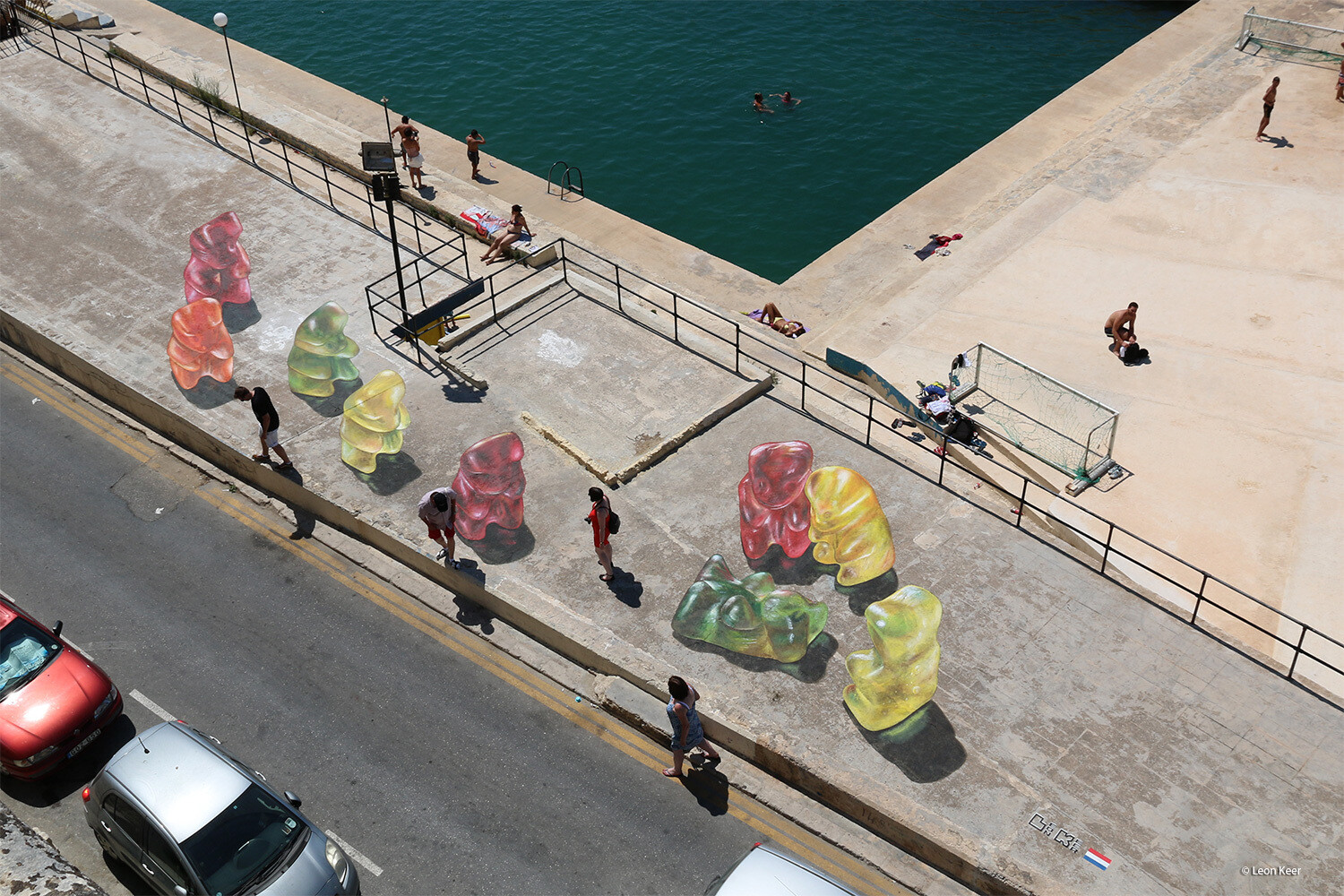 What do you think of Rotterdam and the street art in this city?

"Rotterdam is a city that is rich in new developments. Young, artistic and dynamic. In Rotterdam you can find originality in street art."

Leon continues: "In many cities, such as my hometown of Utrecht, street art is often seen as applied art. Municipalities or institutions often ask to create work that focuses on promoting the city. Then I wonder: why paint a copy of a museum piece on the wall?"

"Acknowledging street art as an art form means letting the interpretation be free. I have the idea that they understand that in Rotterdam."
'Acknowledging street art as an art form means letting the interpretation be free.'
Can you tell us something about the work you made on the Lijnbaan?
During the Rotterdam Rooftop Walk you come face to face with a beautiful work by Leon Keer. An underwater world is depicted on one of the Lijnbaan buildings.

Leon explains how this wonderful collaboration with the Rotterdamse Dakendagen came about: "Two years ago I came into contact with Léon van Geest, director of the Rotterdamse Dakendagen. He told me with great enthusiasm about his plans to make the roofs useful for people and the environment. He wanted to use my art for the project of the upcoming edition. A major project with many similarities in our objectives. I used the theme of biodiversity to create this work."

"When I stood in the parking garage, from where you can best see the work, I already realized that I had to do something with colour to set the gray roofs and buildings in nice contrast. I also have examples of the often still unknown underwater plant world used in my composition."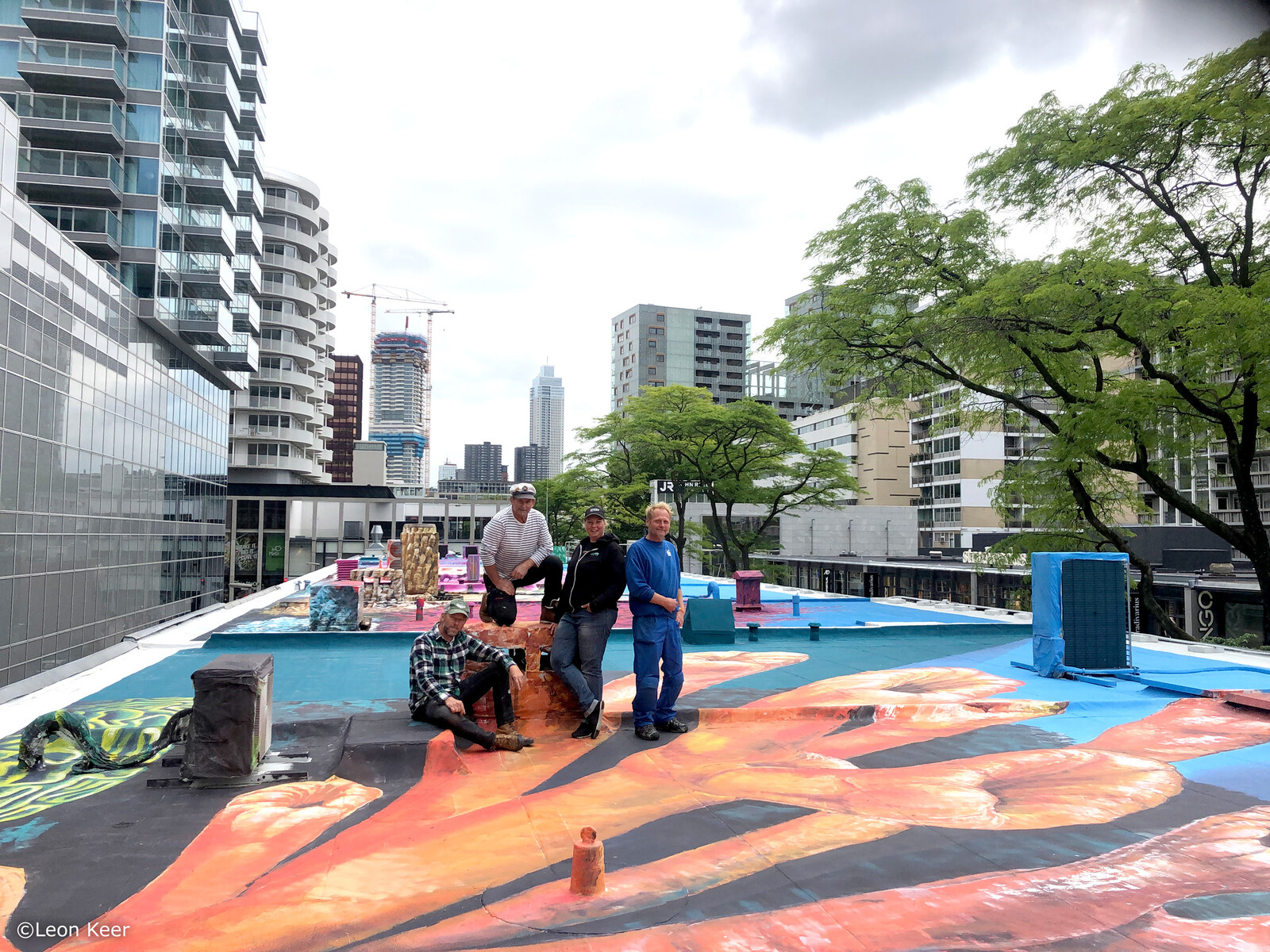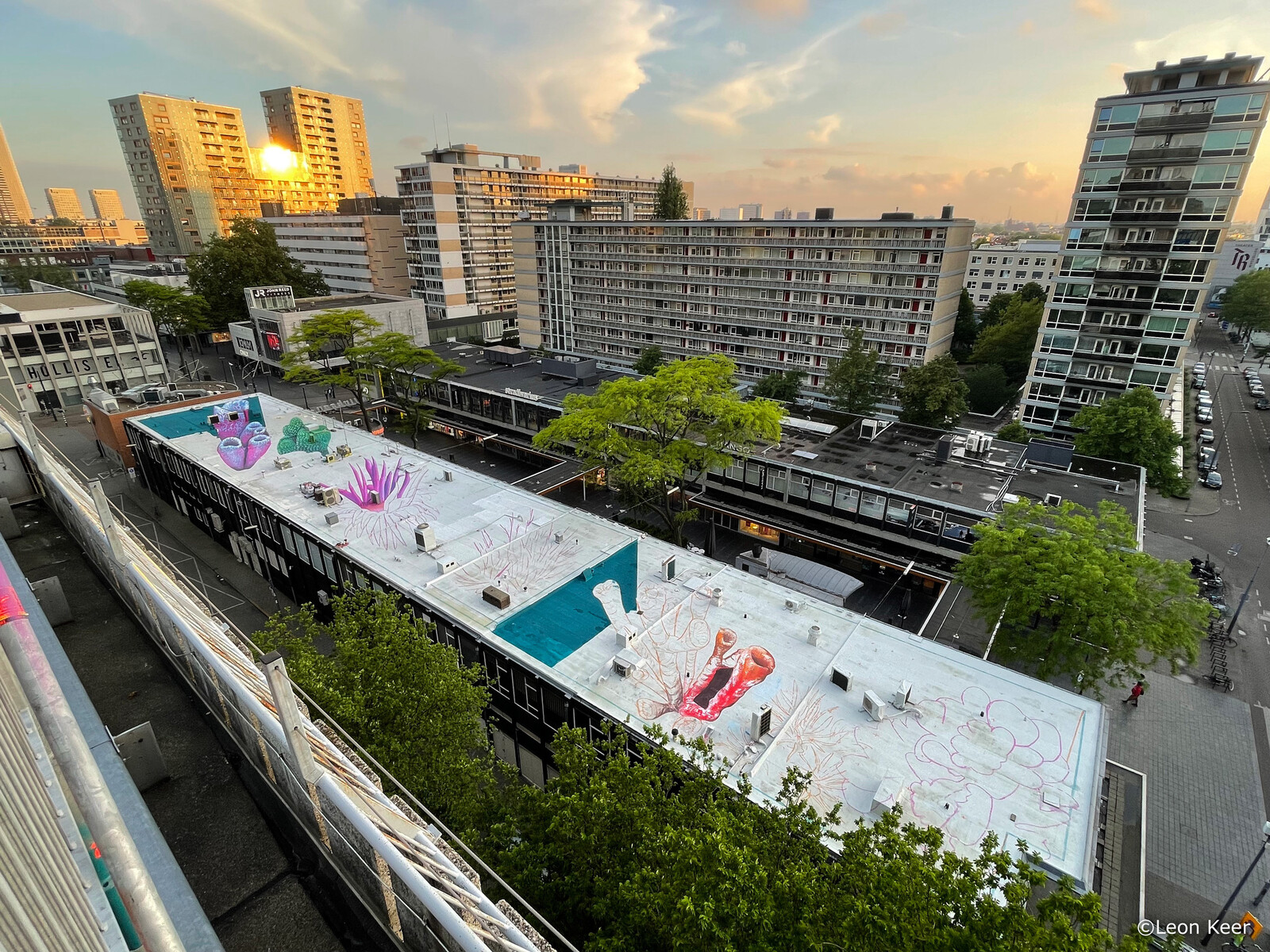 How long did it take to create the piece on the Lijnbaan?
"We spent eight days with three people for the painting on the roof of the Lijnbaan. Those were long days, of which we also had to fight hard for 10 hours to get the water off the roof after the umpteenth rain shower."
What do you think of the Rotterdamse Dakendagen?
"The Rotterdamse Dakendagen is a special project. It is great to inspire people to think about how they can deal with the environment. In addition, just like you experience a city differently from the water, you will experience a city differently from high up."

"The connection I see with the Rotterdamse Dakendagen and my work is that you can let people experience their environment differently. The many open squares and roofs lend themselves well to art. In my opinion, the temporality of such a project enhances the inspiration to do even more."
'The connection I see with the Rotterdamse Dakendagen and my work is that you can let people experience their environment differently.'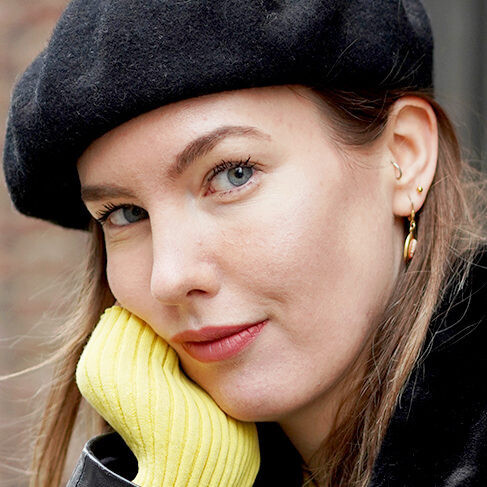 Written by Lisanne van Beurden
May 30, 2022
Frontrunner